For the past few years, I've been honored to moderate for the Texas Book Festival and this year they're celebrating 20 years with a record of 300 authors! I'm so excited to return and help them celebrate great literature for adults and children. As many of you know the Texas Book Festival benefits Texas public libraries and literacy across the state.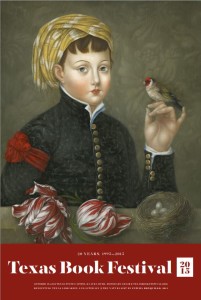 On Sunday, Oct. 18th at noon, I'll be moderating the Survival of the Fittest panel with children's authors Rebecca Stead (Goodbye Strange), Nick Courage (The Loudness), and Nikki Loftin (Wish Girl). I know the discussion among these incredible authors is going to be entertaining. I hope you'll join us and please check out the other amazing Texas children's and YA authors speaking at this year's festival.
Don't forget to tweet live with #TXBOOKFEST.
See you there!