Bears Make the Best Reading Buddies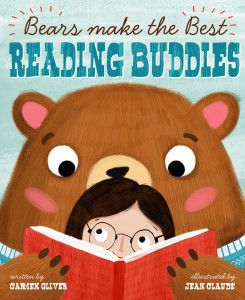 Author: Carmen Oliver
Illustrator: Jean Claude
Published: Capstone Young Readers/Curious Fox March, 2016
Adelaide attempts to persuade her teacher Mrs. Fitz-Pea that her reading buddy choice is nothing to be afraid of because his bear-like qualities make him perfectly equipped for the job.
Available now! Click HERE! A downloadable educator/activity guide by educator Debbie Gonzales.
Available now! Click HERE! Downloadable coloring pages with Bear and Adelaide.
Available now! Click HERE! Downloadable poster "Who's Your Reading Buddy?"
REVIEWS
"Children will surely want their own large brown reading buddies after listening to this book about the joys and challenges of reading."
******************************************************************
The Favio Chavez Story
Author: Carmen Oliver
Illustrator: TBD
Published: Eerdmans Books for Young Readers, TBD
In this picture book biography, Favio Chavez shows impoverished children living in Paraguay how to make music from the instruments he created out of the shantytown's landfill and inspires them to dream big.