Presentations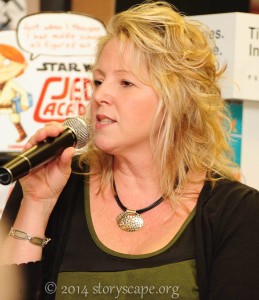 Carmen loves to speak at literary festivals, writing workshops & conferences, school & library visits and special events. She loves to entertain people, young and old. She would love to tailor a program for your organization.
Over the years, Carmen has moderated panels and introduced speakers for the Writers' League of Texas, the Texas Book Festival, and the Austin SCBWI chapter. She's also taught workshops and presented keynotes for the Writing Barn, The Highlights Foundation, The Charlotte S. Huck Children's Literature Festival, the Vermont College of Fine Arts and the Austin SCBWI chapter.
Keynotes & Workshops
Connecting Your Book to Audiences for Today, Tomorrow, and the Future
Booking Speaking Engagements: Oh the Places You'll Go
Raising a Reader: Empowering Children Through the Magic of Books and Author Visits
It Takes A Village to Raise A Writer
Building Your Author Brand
The Journey: Path to Publication
Crafting Successful Author Visits
Perfecting the Picture Book I & II
School Visits
Carmen's author visit programs inspire children to love PIE. P to Persuade. I to Inform. E to Entertain. Great writing is all about PIE and so are the roles authors play in children's lives. Carmen has been involved in putting together writing workshops and books clubs for after school programs. She's passionate about creating lifelong readers and leaders.
Testimonials
Keynotes/Workshops
"Ms. Oliver's friendliness flexibility and sense of appreciation bordered on the legendary…her efforts made for an unforgettable experience, and one of the highlights of my own teaching career." — Sam Juliano, Children's Literature Reading Coordinator, Fairview, New Jersey
"The business side of writing is information that I'm always hungry for. In the many writing workshops that I've encountered, it is overlooked or non-existent. So you (Carmen Oliver) presented exactly what I needed and then some."– Children's author LaTisha Redding, The Highlights Foundation attendee
"Carmen Oliver was enthusiastic and informative in the presentation about booking appearances she gave at the Austin SCBWI Marketing Boot Camp. The attendees left filled with tips that will help them have a successful career."– Regional Advisor Samantha Clark, Austin SCBWI
"I couldn't let this day slip by without telling you (Carmen Oliver) how much I enjoyed the workshop (The Journey: Your Path to Publication).  I especially want to thank you for everything you did for me.  You drew out the best in me and (I'm certain) in everyone else who attended.  Don, Kelly and Floyd were great and very accessible. You are all true professionals and mentors in every way I needed.  Thank you so very much." Roman Yasiejko, The Highlights Foundation attendee
School Visits
"Carmen was such a fabulous presenter and the children just lapped up her words, her ROARS, the story, and their new books."–Dara La Porte, An Open Book Foundation, Washington, D.C.
"Carmen, thanks so much for coming to LES.  We appreciate your willingness to share your wonderful journey as a writer with us.  Your visit encouraged students to read many kinds of books. You also inspired many young writers.  My favorite comment from the students was, 'You inspired me to read as many books as I can.'  That really says it all." –Librarian Dena Wilson, Llano Elementary, Texas
"Thank you for sharing your many talents with our students and thank you for your willingness to meet with the four classes."–Karen Cowden, Kimball ES Librarian, Washington, D.C.
"Carmen Oliver visited with our kindergarten and first grade classes, and engaged them immediately with tales of her reading life as a child and her path to becoming an author.  She effortlessly wove details of her life in Canada, Winnie-the-Pooh, research on spirit bears, and inspiration from her own children, all leading up to her debut picture book, Bears Make the Best Reading Buddies. Ms. Oliver's encouragement to follow your dreams inspired students to write their own stories and talk about perseverance." Librarian Chris Margocs, Sommer Elementary, Texas
"It was an amazing presentation. The students were engaged and had many opportunities to share. It was one of the best author visits I've ever had." Librarian Michelle Lightbourn, Boone Elementary, Texas
"She (Carmen Oliver) was the best author I've seen. A natural with the kids and everything she said was relevant to them." Ginger Quiroga, Teacher at Popham Elementary, Texas
"The kids really loved the author visit with Carmen Oliver.  They were talking about it all afternoon!" Linda Daniels, Teacher at Popham Elementary, Texas
"Carmen Oliver was a joy to have at Popham Elementary.  The kids and teachers absolutely loved her!  She had us roarrring for reading!" Ne'Leigh Hamilton, Librarian Popham Elementary, Texas
"Carmen Oliver did a fantastic job presenting at our summer reading camp. While we had students from pre-k through high school, she perfectly tailored the message to reach all ages. The kids loved hearing about her stories growing up, her genuine love for reading, and her inspirational message that every child can be whatever they want to be! My favorite aspect of her presentation was how interactive it was—the kids were encouraged to share and let out a big 'roar for reading'. It would be a pleasure to have Ms.Oliver present at our camp next year, as I'm sure she will have new adventures to share." – Sarah Salinas, Assistant Director Read to the Top, Taylor, Texas
Gallery